My name is Lavinia Costantino: I am an actress and storyteller, drama teacher, dancetherapist and I am getting trained in the use of storytelling in therapy.
I work with kids and adults and with special needs like disability, elderly people, mental health services. I offer one-to-one or group sessions where creative experience supports growht, change, and therapy.
My background is into physical theatre and oral storytelling, and my art practice in educational and healthcare services is informed to mindful principles like non-judgement, self awareness and loving kindness
EDUCATION, EXPERIENCES AND PROFESSIONAL AIMS
Learn the rules like a pro, so you can break them like an artist.
When I was 7 years old I decided I had to be an actress, so I could live "many lives in a single one". My family supported me wholeheartedly, taking me to drama, improvisation and circus classes wherever. By the age of 18, I had successfully concluded Quellidigrock theatre academy in Milan, where I was mainly trained as a physical performer rather than a classical actress.
Meanwhile, I was a good girl and graduated with top marks in History of Theatre at Pavia State University: my final essay reported some experiences of theatre in jail with prisoners and ex-prisoners I had taken part into, while volunteering for the British charity Escape Artists in Cambridge, UK. After that, I got my post grad in History of Dance at Milan State University, with a final essay on somatic approaches and contemporary dance.
Living and studying in the UK/US helped me grow up bilingual, and gain a Certificate of Proficiency in English: I therefore started working with English speaking theatre companies in Italy, whose main aim was to bring educational theatre to schoolkids. I really loved that period of my life when I was wearing Snow White costume at 9am while kids looked at me in awe saying: I've heard you have a double tongue?!
I soon realized I loved working with children and special need people, so I completed my education with a training on Educational Theatre at Piccolo Teatro di Milano and in 2012 I became a certified dancetherapist – Maria Fux approach.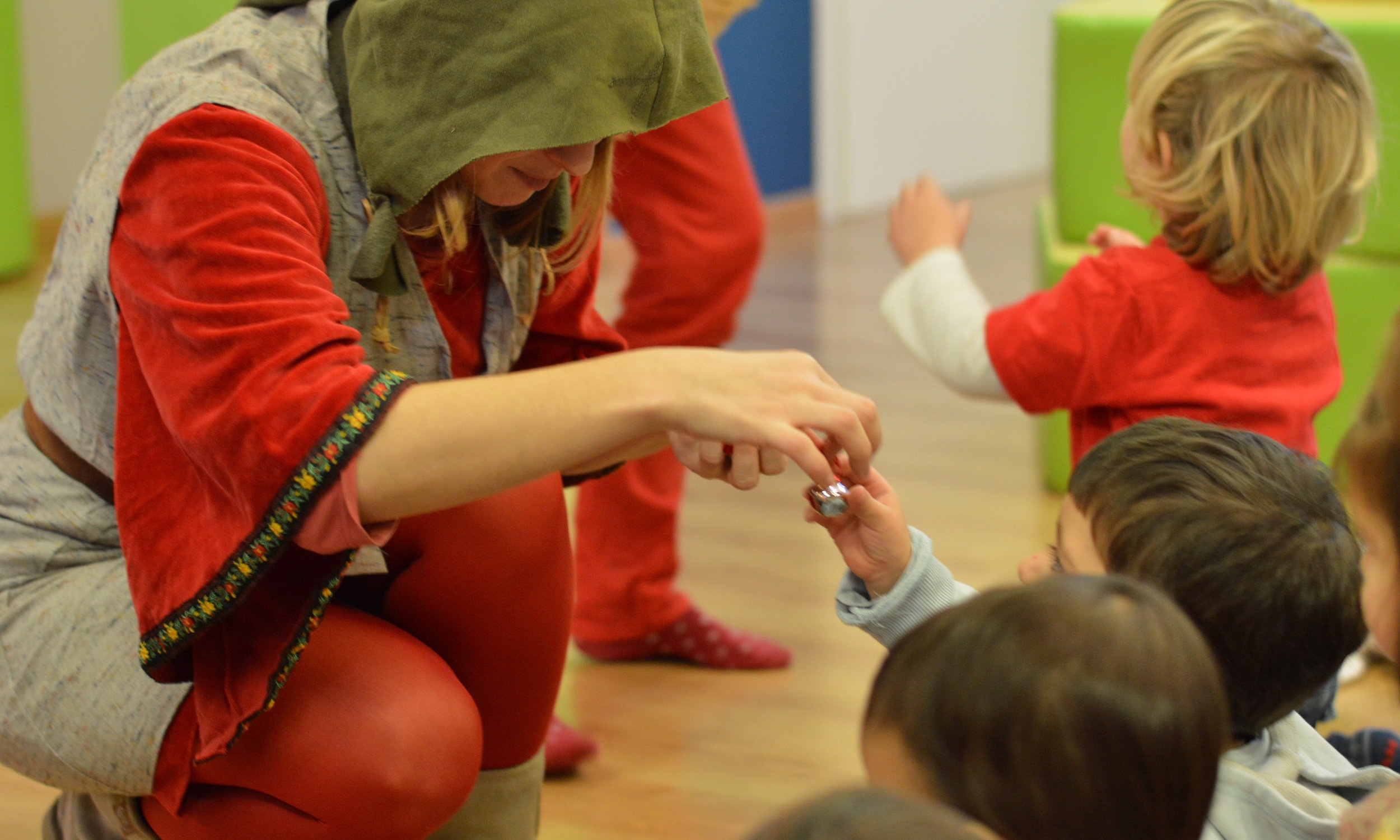 In the same years, I partnered HR/consulting senior professionals providing drama-based workshops for companies, aimed at reinforcing non-verbal communication skills, leadership styles, emotional intelligence, teamworking.

This experience eventually nurtured my belief that we all, from kids to top managers to disabled people, can feel empowered and resourceful when we learn how to trust and make good use of our creativity and emotional skills.
While dancetherapy is my best option when I work with special need groups, I find storytelling and narration more productive when I work in one-to-one sessions: I followed trainings on the use of storytelling in therapy at Creative Therapies (Glasgow, UK) and Human Givens College (London, UK) and I am really keen on furtherly investigate in this field.
With the passing of time, I realized it was not only what I was doing in my job that helped people transform, but also how I was doing it: for this reason, I felt the need to include the approach I had developed in my ten year long yoga and meditation practice, and I got trained as a Mindful Educator for kids at Mindful Schools, CA. My art practice today is mindfulness-informed, and my interventions promote a non-judgemental, kind, and equanimous mindset.
Recently, I've decided to focus my energies on the partnerships I find more nurturing, challenging and rewarding, but I am in constant search for more explorations.